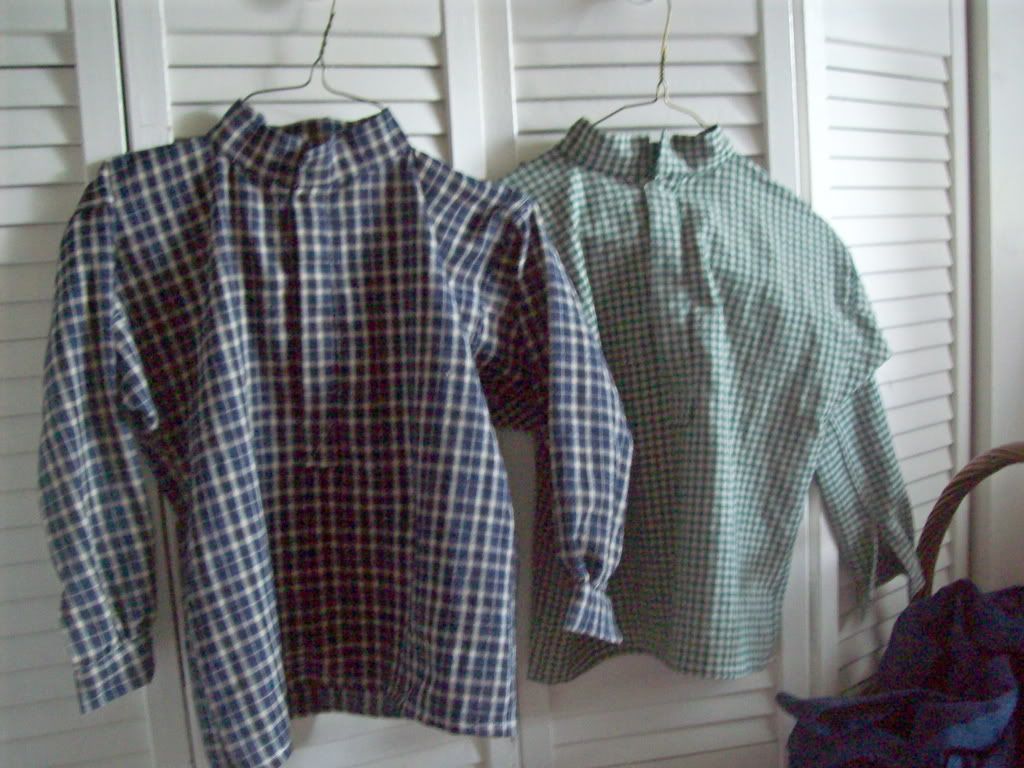 I've been sewing shirts this week for a little fellow just a year and half older than David. His mom and dad are reenacting friends of David and I and back at Jacksonville they mentioned how difficult it is to find childrens clothing. I sure agree! Most vendors at reenactments around here have nothing for kids and the few that do have hideous, poorly put together and very overpriced items. I offered to make a few shirts for the little man in exchange for the outgrown shirts his mom said she was going to give me for my own little boys. I just hope the new shirts I made aren't too big or too small. Too big would be better than too small. I made them enormous on little David so hopefully they will work.
I was surprised at how little fabric it takes to make a square cut shirt in size toddler 5. I had about a yard left of each fabric so I used the leftovers to make new pinafores for the babies. I was greatly inspired by
Mrs. Graham's
pinafores she posted about on her blog so I used her pictures as inspiration and
Mrs. Clark's
1-2-3 Pinafore pattern, girls variation, for basic instructions.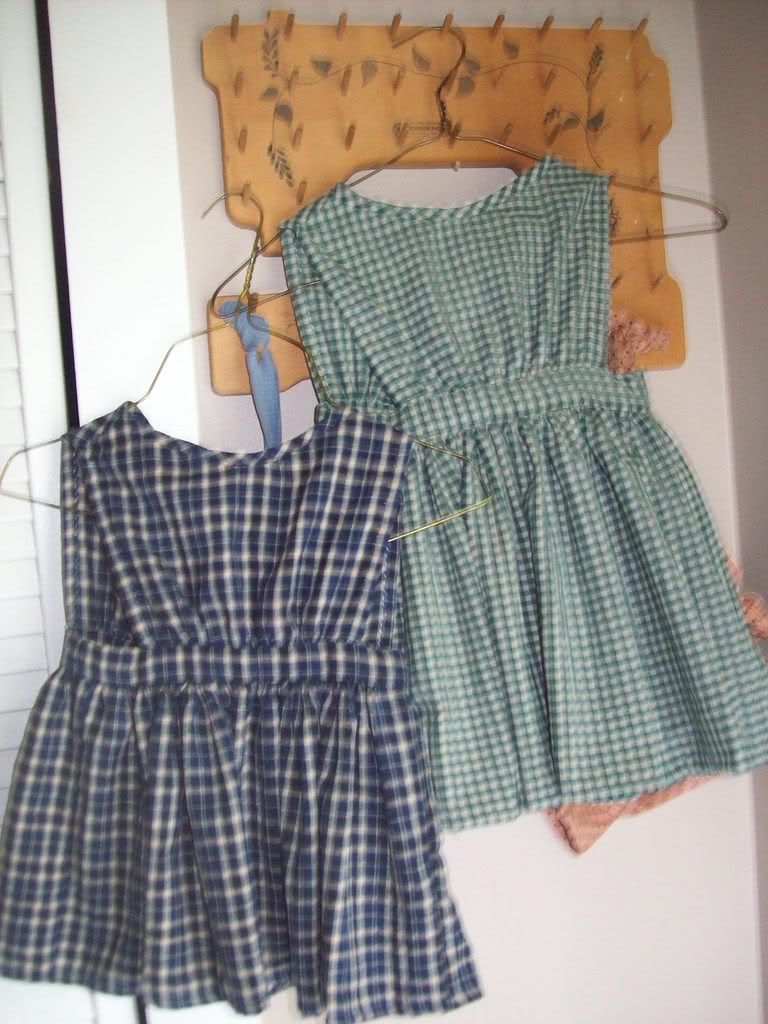 I measured little David yesterday to make the bodice pattern. For Judah, I stupidly used the same pattern just making the bodice 1" shorter than little David's, and the skirt 2" shorter. Later that afternoon when the pinafores were mostly done I tried them on the boys. Little David's fit perfectly but Judah's looked like a regency apron! I had not realized how much he has grown and his chest and shoulder area is every bit as broad as his brothers and his waist is bigger. I didn't want him to wear his way-too-small pinafore, yet I didn't want to give up on it either. I thankfully had enough fabric left to make a new bodice for the pinafore so I just took the old one off and sewed the new one on. The skirts were already the right length. Judah is a stocky baby. His pinafore won't be able to button at the waist but I will put some ties on the back to make it work. That way, too, it is adjustable for any future babies who might wear it.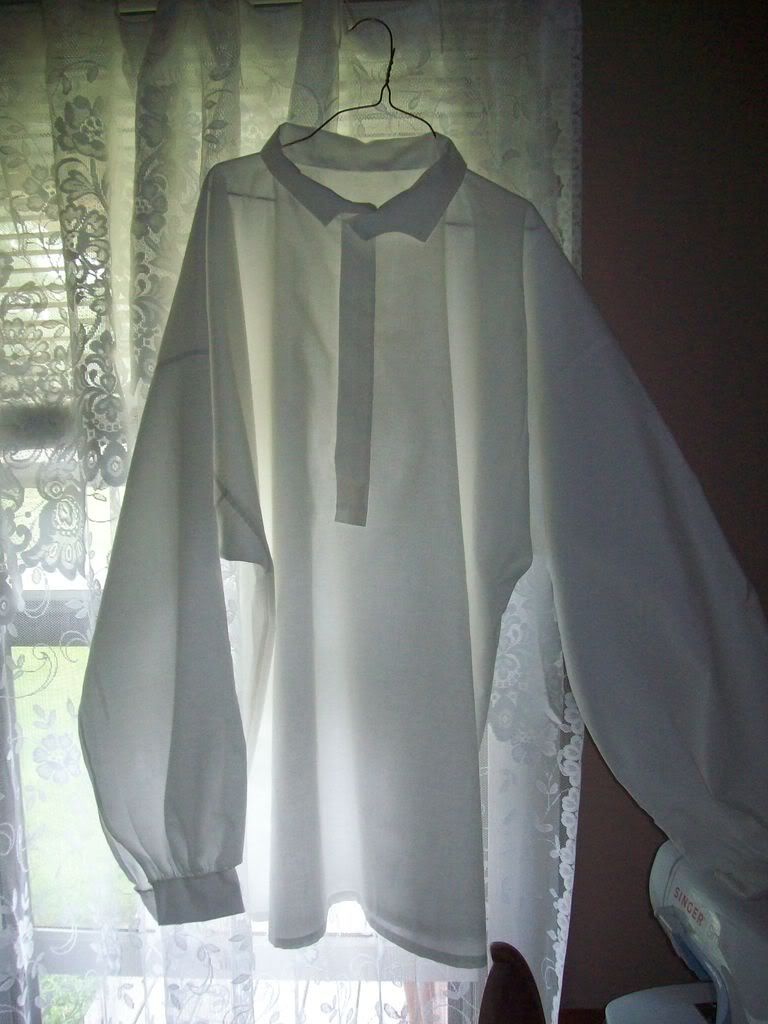 Then, today, I made David his new white shirt. His most recent white shirt is two years old and he has worn it to death and he desperately needed a new one. I used some very light white cotton to make the new one. It was a lot easier making the bigger size shirt than the very small ones I made a few days ago! I think he will like it since it seems it will be much cooler than the heavier weight white one he has now.

All of these things needs hooks or buttons but alas, I don't have any that will work. David is stopping by Hancock fabrics on his way home from work to pick up buttons and hooks. By the way, does anyone know why Jo Anns and Hancocks no longer carry black hook and eyes? The only ones they have come in a package with bars and eyes mixed, which I don't like, and the other packages are of WHITE hooks!
And last but not least, I did break down and sew up the frame for my fashion bonnet. The 2 year old buckram was a little dirty, but I did the best I could with it and anyway it will be covered so no one will see. I tried getting new buckram at Jo Anns but they just stopped carrying it. What a disappointment! I made the tip with one layer of buckram and the rest is two layers. I overcast wire to the edges all around and to the seam between the tip and the crown. Then, I covered that with white bias binding. Sooo…hopefully this one won't collapse like my last one did. I want to get it finished in time to wear to our event after the one we have this weekend.

It has been lovely weather, and the best news is that this weekend is supposed to be even nicer! It will be wonderful having such pleasant weather for our event! Usually this event is terribly hot.

Must go care for a cranky almost-two-year-old,
Love,
Sarah