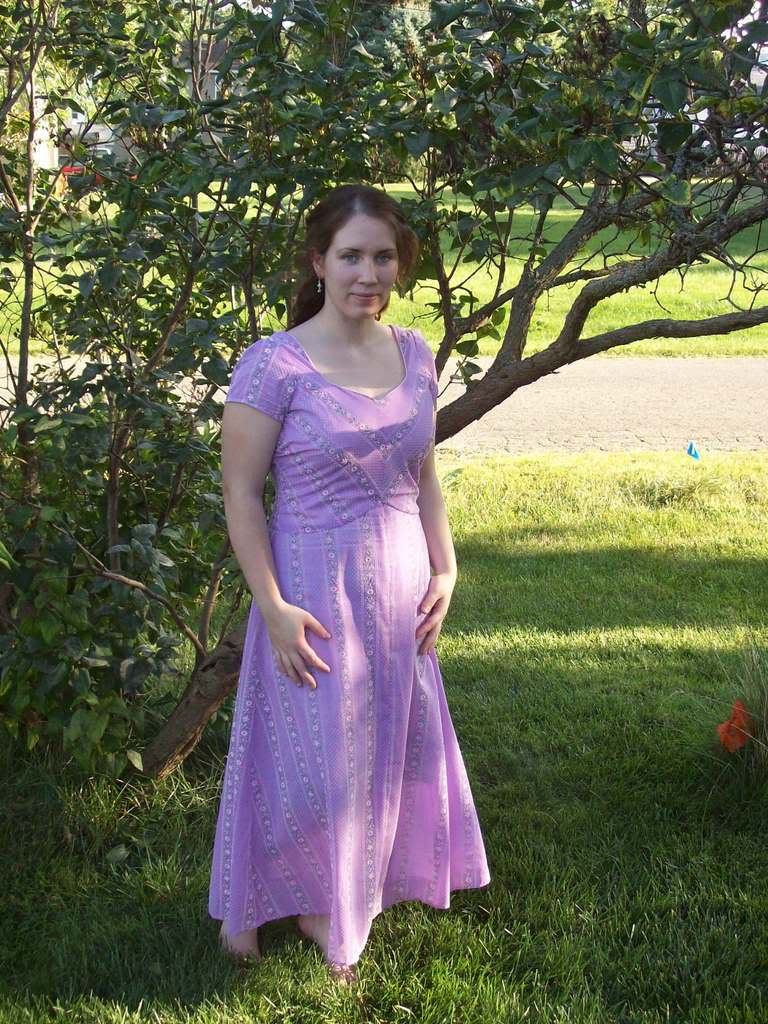 I needed (or, well, wanted) something new to wear a few days ago when I went to visit my family so I finally broke down and finished this dress I started nearly two months ago, before we moved. I don't know why I put off finishing it for so long, but that is a tendency of mine. I get almost done with something, and then - that's it. Perhaps I want to prolong the pleasure of creation by not putting in hems, or adding fasteners? Whatever the reason, it is so.
I wore the dress again today for church and a picnic afterwards. It is such an easy dress to wear and so very comfortable! The only problem I find with it is that the neckline seems to stretch so I need to topstitch it down and add some trim to cover the top stitching. Otherwise, the pattern as-is fit just fine, except for taking up the shouder seams, of course. I did hem the skirt longer than the 30's style of mid-calf to below-knee length. I just felt in the mood for a long dress and I can
always shorten it later if I want to.
After the picnic, the church showed a new DVD version of Pilgrims Progress. I was excited to see the movie since I have often read the book. I was not disappointed! It was a modern rendition, but still very accurate to the book. The only problem I had with the movie was the seeming undertone of the possibility of loosing your salvation. I believe that once you are saved, you are ALWAYS saved. It disturbed me to see and hear the insinuation that if you stray from the path to the celestial city (heaven) you will go to hell. I don't remember if that was in the book or not. I need to reread it.
We watched another movie last night - I Am Legend. It wasn't a bad movie, but after it was over I felt disappointed in it. The plot wasn't that great and the ending wasn't that great either. I like happy movies that leave you feeling satisfied and content. This one did not do that for me. It was rather gruesome and dark. It
seemed rather hopeless. I guess that is a problem of this world. Without Christ one IS hopeless.
I like movies like Little House on the Prairie and Anne of Green Gables. :) Dark movies seem to have no point to me, unless there is a moral or a happy ending. In this movie, there seemed to be the absence of both.
Anywoo - it is a beautiful evening and I must go make supper.
Love,
Sarah